Dowmax Hydraulic Motor & Pump
Good for starting at cold temperatures, Dowmax ME motors also feature a flat, pressure-compensating valve plate that prevents thermal shock.
Perfect for applications such as directional drilling machinery, top head drives and marine winches.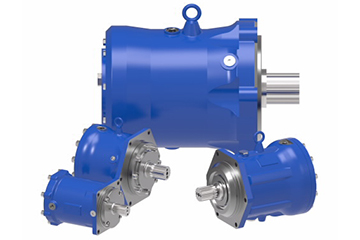 The Eaton DOWMAX ME Motor is an axial piston High Torque Low Speed (HTLS) motor. Incorporating a unique and compact double swash plate design with up to 22 pistons it differs from the more traditional, radial piston (HTLS) motors. As well as outstanding power to weight performance and compactness, the unique design offers significant benefits by reducing speed fluctuations, minimizing flow drift and ripple.
NN Hydraulic India is engaged as Wholesale Dealer of Dowmax Hydraulics Motors and Pumps. Our products are high in demand due to their premium quality and affordable prices. Furthermore, we ensure to timely deliver these products to our clients, through this we have gained a huge clients base in the market.
» Smooth operation at very low speed Multiple pistons and double swash plate result in smooth operation at speed down to 1 rev/min.
» High starting efficiency & high overall efficiency
» Unaffected by thermal shock.
» Compact and easy to install.
» High pressure Pumps
For product technical information you can visit Eaton Web page Click Here
Application Areas
» Construction
» Injection Molding Machine
» Handling
» Environment
» Underground Mining
» Agriculture
» On-Rail
» Forestry
» Off-Road Applications
» Bulk Material Handling
» Manufacturing Equipment
» Marine
» Recycling
» Tunnel Boring Machine
Major Cities We Have Served
Noida, Gurugram, Faridabad, Coimbatore, Vishakhapatnam, Orrisa, Assam, Gujrat, Sikkim, Uttarakhand, Himachal Pradesh, Jammu & Kashmir, Guwahati and many other places.