Hagglunds Hydraulic Motor & Pump
NN Hydraulic India can supply used , new as well as reconditioned hagglunds hydraulic pumps and motors for industrial, marine and mobile applications. Contact us today to get the best price.
Hägglunds introduces the world's maximum torque to weight than hydraulic motors.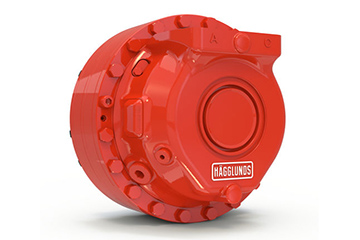 The Hägglunds CA hydraulic motor was developed for a specific purpose: to provide high torque from a small package. Offered by Bosch Rexroth, the Hägglunds CA motor can mount directly onto the driven shaft, an arrangement that makes it much smaller and lighter than the next-best alternative—an electric motor driving a shaft-mounted gear reducer though a belt drive.

A Hägglunds CA motor delivers continuous high-torque power continuously, and the motor's low inertia allows effective torque limitation from zero to maximum speed. It's especially well-suited to winch drives due to its fast-acting pressure control that minimizes transients of strain. It also achieves four-quadrant operation—driving and braking in forward and reverse.
» Hägglunds Atom hydraulic motor
» Hägglunds CB hydraulic direct drive motors
» Hägglunds CMp condition maintenance program
For product technical information you can visit Rexroth Web page Click Here
Application Areas
» Construction
» Injection Molding Machine
» Handling
» Environment
» Underground Mining
» Agriculture
» On-Rail
» Forestry
» Off-Road Applications
» Bulk Material Handling
» Manufacturing Equipment
» Marine
» Recycling
» Tunnel Boring Machine
Major Cities We Have Served
Noida, Gurugram, Faridabad, Coimbatore, Vishakhapatnam, Orrisa, Assam, Gujrat, Sikkim, Uttarakhand, Himachal Pradesh, Jammu & Kashmir, Guwahati and many other places.